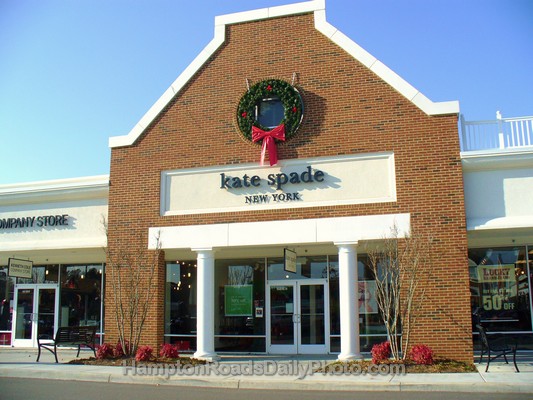 Kate Spade New York is the namesake of Katherine Noel Brosnahan Spade. Ms. Brosnahan married Andy Spade, brother of actor and comedian David Spade and together they launched "kate spade handbags" in January 1993, selling mainly handbags. Today Kate Spade sells a variety of items including, stationery, personal organizers, address books, shoes, baby products, beauty products, perfume, raincoats, pajamas, eyewear, and in 2004, expanded their line into homewares through their launch of "kate spade at home." The home collection includes bedding, bath items, china, wallpaper and various items for the home.
Location: Suite 122
Phone: (757) 258-9484
Current and Upcoming In Store Specials, Deals and Coupons:
Black Friday 2010 - Fri, Nov 26 2010 : Midnight to 6am: 50% off your entire purchase*
Nov 26: 6am to close: 40% off your entire purchase*
*excludes clearance items
Current and Upcoming Online Store Specials, Deals and Coupons:
Get from 25% to 70% off of Kate Spade
shoes, sandals,
handbags, apparel and accessories
at Amazon.com.